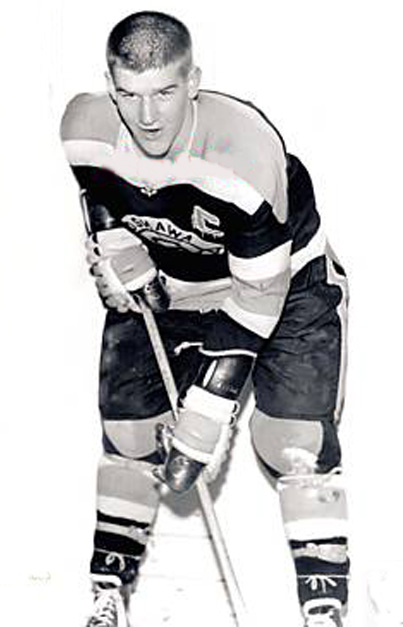 BOBBY ORR LEFT US IN AWE AT HOW HE COULD DOMINATE A GAME.
NO ONE WAS AS GREAT AS NUMBER 4
NOTHING DEFINES TRUE greatness like an athlete who comes along and does things that have never been done before.
This is why, despite their differences, Bobby Orr and Wayne Gretzky have far more in common than most people might think. Orr and Gretzky weren't just great players at their respective positions. They challenged us to rethink what was possible in ways we never imagined.
With Orr it was that ability to control the offensive flow of a hockey game from the back end. In Gretzky's case, it was his innate ability to anticipate what was going on around him at all times, making the puck come to him almost magically. No one had ever seen a defenceman rush the puck the way Orr did, or witnessed a player with Gretzky's instincts for where to be on the ice at any given moment. They were each one of a kind when they arrived on the scene, and still are today.
Both players were prodigies in their early teens. They performed under the glare of a tremendous spotlight from the start of their careers. And though neither was a dominating physical specimen, each brought to the table things that can't be measured. And ach was a gamebreaker pretty much from the moment he hit the ice in the NHL.
Gretzky versus Orr divides hockey fans like no other debate. Consider what happened when The Hockey News assembled its panel to judge the 100 greatest players of all time. With 50 voters casting opinions, Gretzky placed first with 2,726 voting points. Orr was second with 2,713. That's a difference of 0.48 percent among people who've spent their lives around the game and had ample chance to study both players.
So, no one said this would be easy.
THE CASE FOR ORR
Bobby Orr burst onto the scene in 1966-67 as an 18- year-old and won the Calder Trophy. Harry Howell of the New York Rangers won the Norris that season, and bid the trophy a fond goodbye. "I'm glad I won it now," he said, "because it's going to belong to that Orr from now on."
Howell was right. The next season, Orr began a run of eight consecutive Norris Trophies, as the Bruins went from perennial losers to Stanley Cup winners in 1970 and 1972. He scored 100 points in six consecutive years, and his 46 goals in '74-75 was the best ever by a defenceman until Paul Coffey scored 48 with the Oilers in 1986.
By that time, when Gretzky was in his prime, there were roughly 1.5 goals scored per game than in the early 1970s. In other words, Orr's goals were harder to come by than Gretzky's or Coffey's.
The only qualifier to any of Orr's accomplishments is that they coincided with the NHL's expansion from six to 12 teams, a degree of growth unparalleled in professional sports at a time when there was no new influx of player talent. The result was that the 100 –point barrier, previously unbroken, was shattered repeatedly by several players immediately after expansion. That, however, doesn't take away from Orr winning two scoring titles as a defenceman, something no one could have imagined before he arrived.
Which brings us to the most remarkable thing about Orr? He simply did things that no one had ever seen a defenceman do. And the fact that he was able to accomplish his amazing scoring totals without being considered a defensive liability defies explanation.
Orr changed hockey by giving defencemen a much greater offensive role in the game, beyond simply chipping in on the power play. From the moment Orr changed the game, defencemen have been measured not just by how they prevent goals but also by how they help create them by joining or leading the rush up the ice. In Orr's case, he often was the rush, starting with the puck deep in his own end and gaining a head of steam while opposing players watched helplessly.
And yet, because Orr was a defenceman, he had to play a more physical game than Gretzky, who always got more than his share of protection from both officials and teammates. And Orr, when he had to be, was tough.
It's that versatility that sets Orr apart from other players. On any given night, he could be top shooter, skater, checker or passer on the ice. For one player to be so remarkable at so many different aspects of the game, at both ends of the ice, is the genius of Bobby Orr.
Orr was also a standout playoff performer, tallying 92 points in 74 games, including 44 points in 29 playoff games during Boston's Cup-winning goals and captured two Conn Smythe Trophies as well.
THE CASE FOR GRETZKY
Gretzky didn't so much change hockey as he perfected it. His skill set seemed so innate, so instinctual, that it's hard to imagine anyone coming along and seeing the game better than he did.
Gretzky, like Orr, entered the NHL during a period of expansion, when four World Hockey Association teams were added to the league before the European wave was in full force. It's fair to suggest, however, that going from 17 teams to 21 wasn't nearly as dramatic for the NHL as going from six to 12 had been when Orr came along. Gretzky, like Orr, played at a time that coincided with an increase in NHL scoring. But while Orr's era featured several players who broke through new statistical barriers, Gretzky alone pushed his totals to unprecedented heights. Marcel Dionne won the scoring title during Gretzky's rookie year of 1979-80 with 137 points, a figure consistent with the highest individual tallies from the second year of expansion (1968-69) until that time. From there, Gretzky won 7 consecutive scoring titles, eclipsing the 200-oint total four times. The top individual point totals among NHL players during that span, however, remained consistent with those of previous years. In fact, not a single player cracked the150-point barrier during those years. In other words, Gretzky was moving the bar at a time when it remained in place for every other player line with Gretzky.
Fans see hockey mostly as a game about creating goals, and nobody was better at that than Gretzky. he could put the puck in the net, and he was a wizard of the assist. Anyone would be an offensive threat on a line with Gretzky.
And Gretzky was judged to be the greatest player in the game for a much longer span of his career that Orr was. Gretzky won the Hart trophy nine times and was without peer until Mario Lemeiux rose to his prominence. Orr, conversely, was judged to be the game's most valuable player just 3 times. Like Orr, Gretzky was as good in the playoffs as he was during the regular season. He twice won the Conn Smythe Trophy and set numerous records while leading the Oilers to four Cups.
And for a guy who didn't look all that durable, Gretzky played an enormous amount of hockey during his career when you factor in playoffs and international commitments. Yet he never seemed fatigued, and his game never dropped off for any length of time. He was at least a point-per-game player throughout his career except for his last season, 1998-99.
THE VERDICT
I have a hard time not wondering what Orr might have been had knee injuries not hampered him throughout his career, eventually forcing him to retire at age 30. During much of his career he was forced to gauge what his knee could withstand, which limited his ability to play to his full potential every night. Maybe, that's why there were nights, when the Bruins were winning handily, that you didn't notice Bobby Orr so much. It was almost as if during those games, when things were going Boston's way, he would save himself for when he was needed.
Because, so often, when the Bruins were behind, when they needed a critical goal to tie a game or pull ahead, Orr would make that happen. I've got to assume we'd have seen more of that on a consistent basis had he played on two good knees throughout his career.
The deciding factor is going to be subjective, and it's going to go down to a razor's edge: comparing Gretzky to what Orr would or should have been. Here is why you have to pick Orr: at his best, no one was better or more fun to watch than Bobby Orr. Not even Gretzky.
Bear in mind that no defenceman's stats should stack up against a forward.
Bobby was on the ice in every key defensive situation the Bruins faced.
They didn't start to keep +/- until 1967-68, Bobby's second season.

Bobby's career +/- is 597
Wayne's career +/- is 518

Bobby's best year was +124, Wayne's was +98. Bobby never had a minus
season, Wayne had 7 minus seasons.

Bobby's +/- seasons

1967-68 +30
1968-69 +65
1969-70 +54
1970-71 +124 (all-time record)
1971-72 +86
1972-73 +56
1973-74 +84
1974-75 +80
1975-76 +10 (10 games played)
1976-77 +6 (20 games with Chicago)
1977-78 (Did Not Play)
1978-79 +2 (6 Games played with Chicago)

I don't think Gretzky is the best player ever, not even close, but one
thing you have to credit the guy with is durability. When you view his +/-
stats over the length of his career, it's not all that good, and doesn't
really compare with other forwards. For instance, going into this year
Wayne was at +518 in 1487 games, for an average of +0.35 per game. Bobby
was +0.91 per game, FAR AND AWAY THE BEST EVER. Larry Robinson is next
closest at something around 0.53 per game. Wayne's numbers don't compare
with a lot of very good scorers, who also happened to know there were two
ends of the ice, players like Mike Bossy and Bryan Trottier, Rick Middleton
for instance, who are around 0.45 per game.

Bobby's +124 in 1970-71 is an NHL record, and the 1.00 +/- per game is
almost twice the nearest guy, Larry Robinson, so that is a record too.

There will be comparisons, but for the most part I believe most people who
saw both players play agree that Bobby was the best. Gretzky is a great
player, but he's not Bobby Orr.
I doubt anyone will ever have the effect on hockey that Bobby Orr had.
Proof is in Boston itself. When Bobby came into the league there was one
American playing, Tommie Williams, and he was from Minnesota. Once Bobby
started playing in Boston, rinks started cropping up all over Boston. Kids
began playing hockey because of Bobby Orr. Today the Boston area is the
number one prime spawning grounds for NHL talent. Before Bobby: NOBODY,
after Bobby you have Keith Tkachuck, Jeremy Roenick, Kevin Stevens, Tony Amonte,
etc... I counted last year when Bobby turned 60 and I believe that Boston
and surrounding area is now the largest per capita producer of hockey
players in the NHL. Each and everyone one of those guys learned to play
the game on rinks that were built because of Bobby Orr.

If, in 10 years time, kids start coming into the NHL in massive numbers
from L.A., then you can put Wayne's contributions in the same league as
Bobby Orr's, but that isn't going to happen.

Wayne was a great player, no question. He gave great interviews, and he
seems to be a really nice guy, but calling him the best ever is like
calling a DH in baseball the best ever player. Americans understand the
game of baseball much better than hockey, and they realize that a DH is a
one dimensional player. When people talk about the best ever they talk
about Babe Ruth, or Willie Mays, they don't talk about Hal McRae. Americans
do understand point production, and there is no denying Wayne has amazing
point totals.

Some more +/- analysis is provided below. These stats are through the end
of last year (1998-99). Most guys I will mention are retired.

Player All-Time +/- +/- Per Game
Larry Robinson 730 .53
Bobby Orr 597 1.00 ( Not including 61 games in 1966-67)
Wayne Gretzky 518 .35
Ray Bourque 508 .36
Bobby Clarke 506 .44

No one else has a plus minus of over 500!

(In brackets I will list players career +/- that are not listed above)

Plus/Minus Per Game Career Leaders:

Player +/- Per Game
Bobby Orr 1.00 (597)
Larry Robinson .53 (730)
Mike Bossy .51 (381)
Bobby Clarke .44 (506)
Serge Savard .44 (460)
Denis Potvin .43 (460)
Mark Howe .43 (400)
Dallas Smith .40 (355)
Guy Lafluer .40 (453)

I also took a look at Points per Game + +/- per game to get a look at how a
player contributed to a teams winning or losing. Bobby Orr, Wayne Gretzky,
Mario Lemieux and Mike Bossy are the only players whose totals are greater
than 2.00.

Player PPG +/-PG Total
Gretzky 1.92 .38 2.30
Orr 1.39 .91 2.30
Lemieux 1.88 .18 2.06
Bossy 1.50 .51 2.01