RETIREMENT AT 30 YEARS YOUNG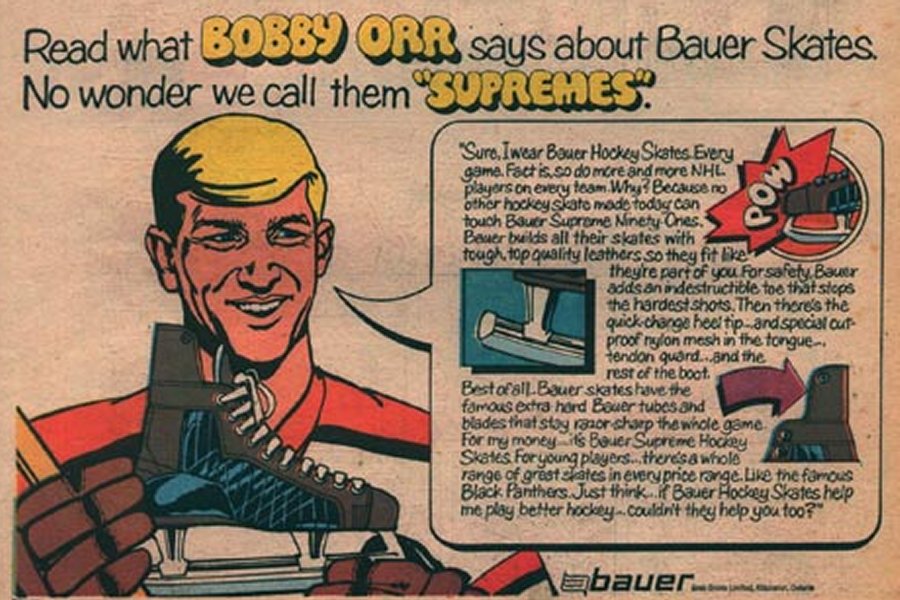 TOO BAD HE COULDN'T WEAR HIS SKATES.
THIS ARTICLE WAS WRITTEN BY THE LATE GREAT RAY FITZGERALD WHO WAS A LONG TIME SPORTS WRITER FOR THE BOSTON GLOBE. HIS STORY WILL BRING TEARS TO ANY ONE'S EYES WHO EVER SAW BOBBY PLAY.
January 9th, 1979--Bobby Orr came back to happy highways one more time last night. He came back to be honored, to be toasted, to be literally praised to the rafters. But he didn't come back to strap on his skates, pull the No. 4 jersey over his head and make poetry out of a game.
Orr is not an athlete dying young, not in the true sense of the phrase, but we all know how much went out of his life--and ours--when, barely 30 years old, he had to quit because of knees with little but air left in them.
Dan Canney has it right.
Dan Canney is the Bruins' trainer. He was the Bruins' trainer a dozen seasons ago when the crew-cut, 18 year old Bobby Orr showed up at the Boston training camp, a phenomenon in search of an arena.
"Last week in Chicago," said Canney yesterday, "I saw Bobby come out of his office, dressed like an executive, a front-office man."
"But I don't see him that way. To me he'll always be Bobby Orr, the hockey player. That's all. The hockey player."
Boston honored Bobby Orr the hockey player yesterday. There was a reception at City Hall and a press conference at the mayor's office and then a dramatic, emotion-packed half hour at the Garden before the Bruins-Soviets Wings game.
But politicians were not a big part, and, in fact, the crowd made so much noise for Orr at the Garden that the governor and the rest of the celebrities were forced to pass up their little speeches.
Orr's closest friend in Boston is State Treasurer Bob Crane, but Orr was a player of the people, not the politicians. He was every middle-aged fan's ticket back to youth, and every kid's fantasy.
"No. 4? Sure, I wore it in Pee Wee," said the Bruins' Bob Miller. "Everybody did."
Last night, the fans gave Orr what master of ceremonies Tom Fitzgerald called "A Guinness Book of Records standing ovation." It lasted six minutes, five seconds and might still be going on if Orr hadn't stepped to the mike and quieted things.
During the ovation, the crowd chanted "Bobby, Bobby" and Peter McNab slapped the boards with his stick. At last, Orr's number was hoisted to the ceiling, to hang there with those of Eddie Shore, Dit Clapper, Lionel Hitchman and Milt Schmidt.
And then came the impromptu thing that tugged at everybody. John Bucyk presented Orr with a No. 4 sweater, and Orr stepped to the microphone to begin his acceptance talk.
"I've been thinking for a week to try to think of what to say," he began, and out of the balcony came the shouts: "Put it on. Put the shirt on."
Orr smiled. He hesitated, then took off his suit coat, the front-office garb, and slipped the white and gold No. 4 shirt over his head as the crowd went wild.
"I was going to try to be sort of formal," he said. "When I get back to Chicago and the Black Hawks see . . . , " and he laughed at the thought of a Black Hawks assistant general manager standing at mid-ice in Boston with a Bruins' uniform top on.
"I spent 10 years here and they were the 10 best years of my life." He glanced at his wife Peggy, who was sobbing. "I shouldn't have looked at you, Peggy," he said, wiping his eyes.
Finally it was over, and Orr, still wearing the jersey, went over to shake hands with the present Bruins, hugging old teammates Gary Doak and Gerry Cheevers. Then he went through the gate and out of the arena, this artist whose artistry was halted suddenly and too soon.
Don Cherry has a video tape of a Channel 38 production of Orr's greatest moments, with Barbara Streisand's "The Way We Were" in the background. "I have a few beers at home," he said, "and I go down and put the tape on and watch. And when she sings that phrase "the way we were" and the young Bobby is doing the things on the ice that he could do, I just sit there and cry. Every time I cry."
Cherry says he was criticized when he first became coach of the Bruins because he seemed in awe of Bobby Orr.
"Of course I was. So was everyone who ever played with him or against him."
So were we all.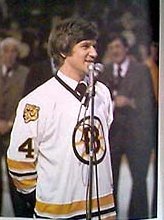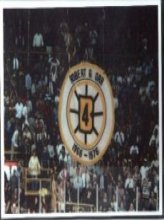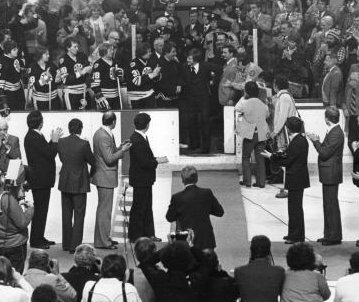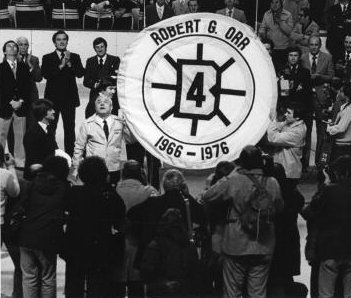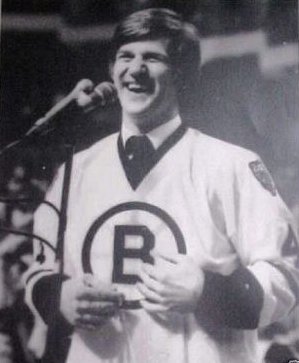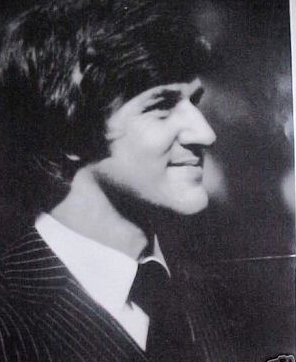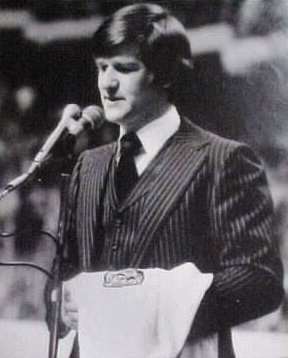 It was impossible to get a ticket for the Bruins' game January 9, 1979 against the Soviet Wings. It was a very special evening for Boston, as their hero, Bobby Orr, was having his number retired by the Bruins. Johnny Bucyk presented Orr with a home Number 4 jersey, which the crowd urged Bobby to wear one final time. "I've been thinking for a week to try to think of what to say," Bobby laughed. Then, as he pulled the sweater over his head, the fans erupted into an extraordinary ovation as a circular banner bearing the name Robert G. Orr and the Number 4 was raised above centre ice. "I love you so much," he said, choking back tears. "I spent ten years here and they were the ten best years of my life!" After shaking hands with Senator Ted Kennedy and each of the current Bruins, Orr saluted the crowd and walked off the ice to the deafening chant of, 'Baw-bee! Baw-bee! Baw-bee!' The Number 4, now raised to the rafters, would never again be worn by a member of the Boston Bruins.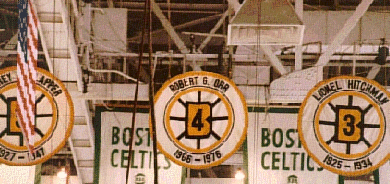 BOBBY ORR NIGHT JAN.9, 1979.
BOSTON BRUINS VS. SOVIET WINGS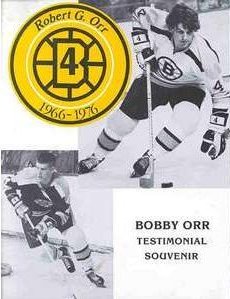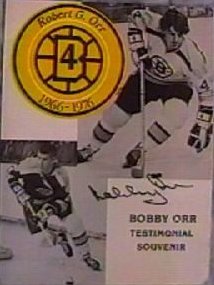 Game Night Programs (One on the right is Signed)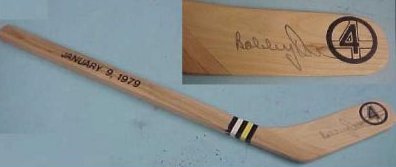 A Souvenir Stick from a Night at the Gardens!!!!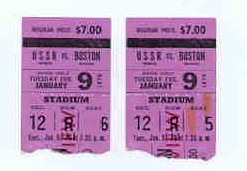 Two ticket stubs for Jan. 9, 1979 exhibition game between the Bruins and Soviet Wings. The Wings won, 4-1 but Bobby Orr made his triumphant return to the Boston Garden after ending his career with the Blackhawks.
---