ORDER THE FAMOUS GOAL NOW EITHER IN BLACK AND WHITE OR COLOR. SEVERAL SIZES DEPENDING ON THE ROOM OR EVENT.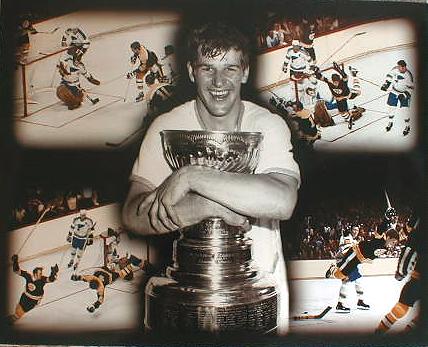 sales@vintagehockeycollectables.com
Led by boy wonder Bobby Orr, the first 100-point defenseman in NHL history, the Big, Bad Bruins won their first Stanley Cup in 29 years in a series that wasn't close. Boston won the first two games in St. Louis, 6-1 and 6-2, and claimed Game 3 in Boston, 4-1. St. Louis, which had made the Finals the previous two seasons but hadn't won a game, desperately wanted to avoid another blanking, and extended the Bruins into overtime in Game 4. But on Mother's Day, Orr scored the mother of all goals when he took a pass from Derek Sanderson and tallied 40 seconds into OT, clinching a 4-3 win and setting off a wild Garden celebration. Orr's goal was his first of the series, and him being sent flying on the play by St. Louis defenseman Noel Picard is one of the sport's most enduring images.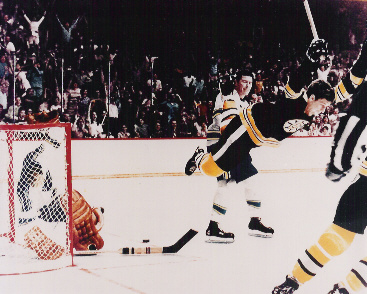 THE STORY BEHIND HOCKEY'S MOST FAMOUS PHOTO
The one-of-a-kind Bruins' legend takes time out of a hectic schedule every year to have dinner and meet with the 100 finalists -- all age 17 and under -- who write the top essays on what it takes to be a Good Sport.

Atkinson, N.H., native Ray Lussier was in the right place at the right time, much like Bobby Orr, when he snapped this photo in May, 1970, recognized as the most famous photograph in New England sports history.

What's amazing about all of this is that none of the young people were born back on May 10, 1970, when Orr scored his first Stanley Cup-winning goal for the Bruins just 40 seconds into overtime. But all they need is ''the picture'' to remind them.

The story that many people don't know centers on that most famous hockey photo of all-time. It's the most famous New England sports photo ever, snapped by a veteran photographer from the Boston area.

Thanks to the late Ray Lussier, who lived in Atkinson, N.H., Orr's magical split-second flying-through-the-air photo is a moment forever frozen in time. And he always enjoyed telling the story of how he took it.

Boston Garden, Game 4, the Stanley Cup finals, against St. Louis on a 93-degree spring Sunday afternoon: Johnny Bucyk's goal had tied the game at 3-3, forcing overtime and a chance for the Bruins to win their first Cup in 29 years before the home crowd.

Photographers lucky enough to be given stools were assigned to front row cubby-holes cut in the protective glass along the boards. They were located in the four corners of the rink. Hunched over, all trying to peek through their lenses without getting hit by a puck.

Lussier had been shooting action for the old Boston Record-American from a corner in the East end. But when the Zamboni rolled out after the third period to make new ice for sudden-death overtime, Lussier figured the Bruins would be going for broke to win it at home, meaning the action would take place in the West end of the rink if they scored.

So Ray went searching for a better place. Sure enough, he found an empty stool and ''shooting hole'' in the opposite end which was momentarily vacated. A competing Boston newspaper photographer, who had the spot, jaunted off during the intermission to a nearby beer stand underneath the seating area.

Oh! Was it ever steamy in the old Garden that day. Take it from someone who wore a suit and tie for the sauna that day. Officially the crowd was 13,909, but add a couple thousand more counting those who snuck in through fire escapes, or duked $20 bills to ticket takers willing to turn their heads for a moment.

''I figured I'd stay there until the guy came back,'' Lussier recalled years later of the missing thirsty photographer.

He did, 40 seconds into overtime, but it was too late.

In a split-second, history and a memory-making photo happened all at once. Preserved thanks to Ray Lussier: Orr, the Bruins' version of Superman, in mid-air flight, tripped by Blues' defenseman Noel Picard, as helpless St. Louis goalie Glenn Hall realizes the game is over.

Hearing a rafter-shaking roar of the delirious crowd, beer cup in hand, the absent photographer rushed back to his spot, demanding Lussier to give it back.

Re-telling the story, Lussier always snickered at the memory.

''I told him, 'It's all yours. I've got what I need,' ''

Returning to his newsroom as the Bruins and their fans celebrated, Lussier told his boss he thought he had ''a couple of good shots'' of Orr's winning goal and immediately shuffled off to the dark room to develop his film.

When old Record-American sports editor Sam Cohen saw a contact sheet, showing tiny frames of each photo on Ray's roll of film, he pointed to one. Sam was up in years by this time, couldn't hear too well, and had a tendency to shout.

''That one right there!'' Cohen bellowed in his crusty voice at Lussier. ''Print it. Big!''

''I never would have got the picture if that other photographer didn't go running off to get a beer,'' Lussier would laugh, always modest about his great sense for action photos.

Years later, in early June of 1990, Bobby Orr decided to host a 20th anniversary reunion to get the Bruins' 1970 Stanley Cup gang together again. All the players on the team, their wives, trainers, management and media members who covered the team, were invited.

During a phone call one day, Orr asked if there was anybody along with the Bruins' beat writers that we thought should be invited.

Ray Lussier immediately came to mind. Ray, starting a career in 1964, briefly had worked for the old Haverhill Journal before the paper folded.

Orr's reaction was instantaneous.

''Ray,'' he bubbled, ''the one who shot the picture? Of course.''

A few days later the Lussiers got their personal invitation from Number 4.

''Ray was so thrilled to be at that reunion,'' Lussier's wife, Claire, was saying yesterday. ''Bobby Orr had his photo taken with him and the Stanley Cup. Ray was so proud.''

Not long afterwards, in 1991, Ray unexpectedly passed away at age 59. Much too young.

Today, his picture of Orr's magic moment hangs in the sport's cathedral, the Hockey Hall of Fame in Toronto. More than that, it is a treasure for thousands of fans who have copies in their special places, scrapbooks or framed on the walls of their homes.

Bobby Orr left a legacy for being in the right place at the right time.

So did Ray Lussier.

Almost without question, it is Bobby Orr's overtime goal that won the final game of the playoffs and brought the Cup back to Beantown for the first time in 29 years.

It is one of the most memorable goals in NHL history.

On May 10th 1970 just 40 seconds into overtime of game four, Orr took a centering pass from Derek Sanderson right in the slot and shot it past a sprawling St. Louis Blues goaltender, Glenn Hall. As soon as the puck hit the back of the net, Blues defenseman Noel Picard would hook Orr's skate with his stick, sending Orr flying through the air. The picture of Orr celebrating the winning goal in mid flight will forever be etched in the minds of hockey fans all around the world.